Publications
*****NO SHIPPING TO DESTINATIONS OUTSIDE THE UNITED STATES*****
Below is a listing of the current publications available for purchase from the Society. Prices shown include tax and shipping/handling. Click on "Mail in Check" to go to the form to purchase by mail. Click on the Paypal link to purchase online. Be sure to select Member or Non-member as reflects your status.
NOTE: Due to the high cost of international mailing, we are unable to sell and ship publications internationally via Paypal. 
100 Years of Columbia County Memories, 1913-2013
Revised and Updated Edition now available!
Edited by Robert Dunkelberger, Sam Bidleman and Eric M. Sweeney
This book, created in celebration of Columbia County's bicentennial, is intended to provide a snapshot of memories across the years. In addition to facts and stories covering the second 100 years of Columbia County's existence divided into three separate geographical areas, over 150 distinctive photographs are reproduced here, some which have rarely been seen over the decades.
8.5″ x 11″ softbound, 275 pages, over 150 photographs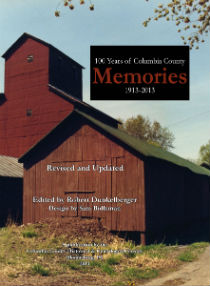 2nd World War In 1st Person, Memoirs Of Some Who Served
By Mark Fritz, Editor
Nine local WWII veterans tell their stories, including hitting the Normandy beaches on D-Day, facing Kamikaze attacks at Okinawa, serving on Eisenhower's staff, and flying cargo planes over New Guinea. Also single-page "Brief Profiles" of 85 local WWII veterans.
8.5" x 11" softbound, 230 pages, over 330 illustrations, index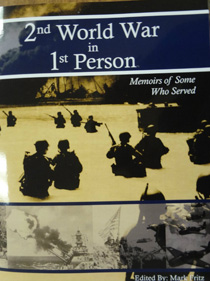 A History Of Ikeler's Hill Or Ikeler's School District
By Ava Dennen Hower
A reissue, with additions, of a 1960 detailed history of the families, farms, church and school of this close-knit community in Mount Pleasant Township, Columbia County, written by a lifelong resident.
8.5"x11" spiral-bound, 154 pages, 12 photos, index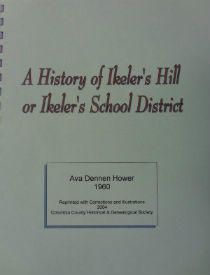 A History Of Madison Township
By W. M. Baillie
The story of an "ideal" rural community in Columbia County from its original settlers through the Civil War era. Included are family histories for 75 prominent early settler families, with over 2,000 individuals included.
8½"x11" softbound, 210 pages, 4 maps, 50 photos, notes, bibliography, index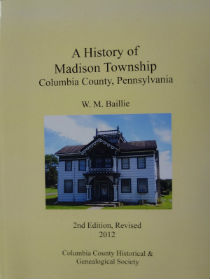 A Quiet Boomtown: Jamison City, Pa. , 1889-1912
By Craig A. Newton and James R. Sperry
Discover the history of how this community in the northern reaches of Columbia County owed its existence to a railroad, which in turn, enabled the lumbering and tanning industries to become its economic foundation. The study also provides a descriptive account of community life. Its future and prosperity were dependent on a forest that was constantly under attack by the woodman's axe and saw.
5.5"x8.5" paperback, 160 pages, 1 map, 38 photos, endnotes, bibliography, appendix, and index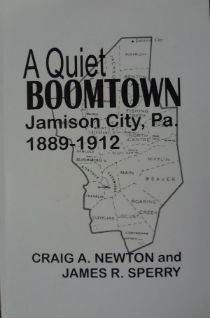 Bloomsburg in 1870
By George A. Turner and W. M. Baillie
A portrait of Bloomsburg in the year it was incorporated as the Commonwealth's only Town.
The book presents three types of information:
• The complete U. S. Population Census for Bloomsburg in 1870
• The 1870 map of the town, in sections, showing the owners of every residence
• Biographical sketches of 70 of the town's leading citizens and their families.
With INDEXES to personal names of the map, the census, and the biographies.
SPECIAL FEATURE: a digital copy of the 1870 map on a CD; on your computer screen, you can zoom in to see specific neighborhoods in great detail.
Paperback, 8-1/2" x 11", 188 pages
Cemeteries Of Columbia County, Pennsylvania (Volume II)
By Ann Brandt, Editor
This is a great resource for those who are interested in genealogy. The inscriptions on gravestones can be a great help in researching family history. In this volume there are the names of those buried in twenty-one cemeteries in six townships: Greenwood, Hemlock, Madison , Mt. Pleasant , Orange , and Fishing Creek. It also includes maps that can help you locate the cemeteries. Cemeteries included are: Canby, County Home, Crouse, Dutch Hill, Greenwood Friends, Greenwood Methodist, Ikelers (Greenwood Twp.), Ikelers (Mt. Pleasant Twp.), Jerseytown, Katy VanDine, Kitchens, Laurel Hill, Lemons, McHenry, Millville Borough, Millville Friends, Rohrsburg/Rohr Family, Rohrsburg, Savage Hill, Vallerchamp, and Vanderslice.
8.5"x11" spiral-bound, 242 pages, 5 maps, and 29 photos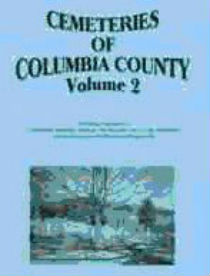 Cemeteries Of Columbia County, Pennsylvania (Volume III)
By Ann Brandt, Editor
This is a great resource for those who are interested in genealogy. The inscriptions on gravestones can be a great help in researching family history. In this volume there are the names of those buried in nineteen cemeteries in four townships: Briar Creek, North Centre, South Centre, and Scott. It also includes maps that can help you locate the cemeteries. Cemeteries included are: Bower, Briar Creek Union, Ebenezer, Fowlersville Baptist, Fowlersville Lutheran, Hidlay, Highland/Lightstreet, Holy Annunciation, Lime Ridge EUB, Lime Ridge Methodist, Martzville, Ohev Sholom, Old Bower, Old Ebenezer, St. Cyril's Ukrainian, St. Mary's, Stone Methodist, Summerhill, and VanCampen/Fort Wheeler.
8.5"x11" spiral-bound, 207 pages, 3 maps, and 26 photos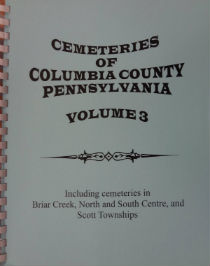 Cemeteries Of Columbia County, Pennsylvania (Volume IV)
By Ann Brandt, Editor
This is a great resource for those who are interested in genealogy. The inscriptions on gravestones can be a big help in researching family history. In this volume there are the names of those buried in six cemeteries in two townships south of the Susquehanna River: Main and Mifflin. Cemeteries included are: Emanuel, Fisher, Brown, Creasy, Mensinger and Mifflinville Village. It also includes maps that can help you locate the cemeteries.
8.5"x11" spiral-bound, 202 pages, 3 maps, and 26 photos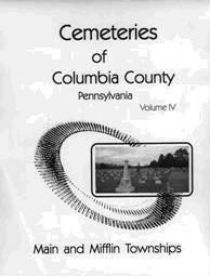 CEMETERIES OF COLUMBIA COUNTY, PENNSYLVANIA (Volume V): Cemeteries Of Catawissa Borough
By Ann Brandt, Editor
The fifth volume of Cemeteries of Columbia County, Pennsylvania is available at the Society or can be purchased by using the mail order form. It is part of a series of Columbia County cemetery books that provides complete listings of known burials. Included in Volume V are four cemeteries in Catawissa Borough: Society of Friends, Greenwood, Union, and Hillside. The volume presents alphabetical listings of over 4500 burials based on a careful re-reading of all legible tombstones. Additional information, such as spouse(s) and military service, is included when available.
8.5" x 11" spiral-bound, 236 pages, 3 maps, 10 photos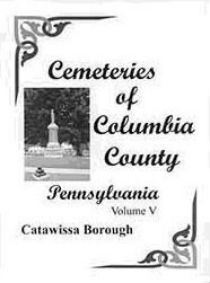 Cemeteries Of Northern Columbia County (Volume I)
By Ann Brandt, Editor
The data that can be found on gravestones can be very useful for those who are involved in genealogy and researching family history. This volume includes information found in seventeen cemeteries in five townships in the northern part of Columbia County and one cemetery in Fairmount Township in Luzerne County. Cemeteries included are: Cole Rd. burials, Keller Pasture, Boston, Belles, Fallowbrook, Dodder, Benton, Hamline, Raven Creek, Jackson/Derrs, Waller, Pine Center, Wesley Chapel/Talmar, Jonestown, Stillwater, Zion, St. James, Chapin Funeral Home Records.
8.5"x11" spiral-bound, 220 pages, and 1 map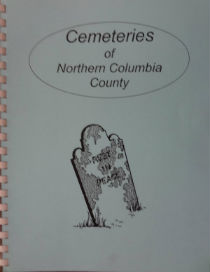 Cemetery Locator: Columbia County, Pennsylvania
By Andre Dominguez
Guide for finding over 100 county cemeteries, including GPS coordinates. Maps for each township and borough, showing the location of each cemetery. Also includes interesting information about each cemetery.
8.5" x 11" spiral-bound, 84 pages, 36 maps, 103 photos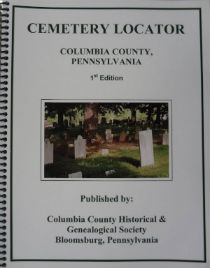 Christmas in Columbia County, A Century of Memories from Rural Pennsylvania
One of the most complete histories of local celebrations of Christmas, covering from the 1800s up through the 1970s! The book relates the history of current traditions and others long gone, such as the Winona Fire Company dances, toy matinees, the Berwick Boulevard, and Santa Claus opening the Christmas shopping season. Learn about the era when Sunday school celebrations centered not on the story of the birth of Jesus but on the adventures of Santa Claus. See advertisements and photographs of dozens of stores that once populated Main Street in Bloomsburg and communities throughout the county. Discover how Bloomsburg University celebrated the holiday over the years. Read personal memories and stories by local residents and Letters to Santa from decades past. Try recipes of Christmas cookies and other holiday treats. Relive wintertime activities such as sleigh rides, sledding, and ice skating.
The book is 8.5″ x 11," 160 pages in length, hardcover in color, and contains nearly 300 illustrations.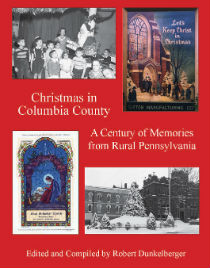 Columbia-Montour Counties 1876 Atlas
Collectible, hardcover, full-color reprint of the 1876 F. W. Beers & Co. Atlas, including 74 detailed maps of the boroughs and townships, showing locations of community buildings, cemeteries, railroads, and the North Branch Canal, as well as the names of property owners. Also included are line-drawing illustrations of businesses, churches, schools, and homes, along with a listing of principal merchants, manufacturers and farmers.
11"x14" hardbound, 95 pages, 74 maps, 21 illustrations, name index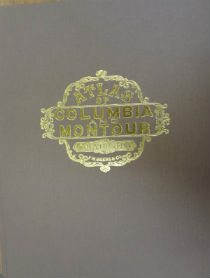 Discovering Bloomsburg: a bicentennial history
By W. M. Baillie
The first history of the only incorporated town in Pennsylvania, with chapters by twenty authors on a variety of topics such as the town's founders, trolleys, women at work, the Fair, and floods.
6"x9" softbound, 288 pages, 4 maps, 50 photos, index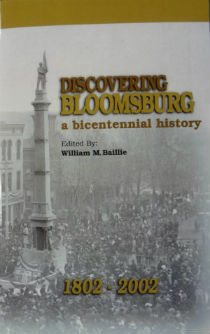 Do You Remember Fernville?
By Pat Parker
This is a history of a small community in Hemlock Township called Fernville along Fishing Creek located across from Bloomsburg. Years ago it supported a number of businesses, but today that has now changed, and it is mainly a residential area. Parker retraces its history from the 1800s up to the twenty-first century. Attention is given to its economic and social aspects as well as to the floods that have inundated the village. It is very special that one of its residents chose to write a narrative about a place that is remembered by many people as home.
8½"x11" spiral-bound, 87 pages, 3 maps, 74 photos, bibliography, and appendix.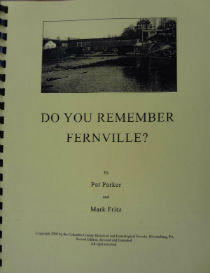 Early Columbia County
This array of vintage photographs1870-1920 provides a delightful vista of all sections of Columbia County from 1870 to 1920: townscapes, schools, industries, trolleys, noted buildings—it's all there. Each photo is described in a caption which often includes the names of persons depicted. Part of the IMAGES OF AMERICA series published by Arcadia Publishing Co.
6.5" x 9" softbound, 128 pages, 210 photographs, map.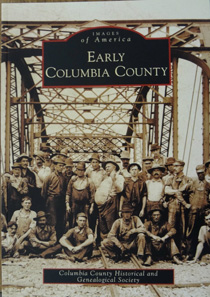 Fernville – 2007: Still Hangin' In!
By Pat Parker
In this supplement to DO YOU REMEMBER FERNVILLE? longtime resident Pat Parker describes the colorful people of a unique neighborhood beside Fishing Creek. Over 250 past and present Fernville residents are mentioned by name.
8.5"x11" spiral bound, 48 pages, map, 45 photos, index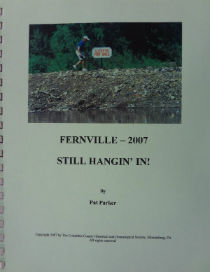 Grist Mills of Columbia County
SECOND EDITION, REVISED AND ENLARGED, WITH COLOR PHOTOS
By William Baillie, Andre Dominguez, Brian Johnson
This volume contains descriptions and basic information for over 80 grist mills with biographical notes on over 350 mill personnel; more than 150 families are represented, including such familiar county surnames as Ent, Eves, Eyer, Mather, McHenry, McKelvy, Shultz, Shuman, and Snyder. The introduction describing the operation and community functions of mills. Also included are a map showing the location of mills in each township and a CD containing a full-color file of the complete book.
8.5" x 11" softbound, 178 pages, 142 photos, map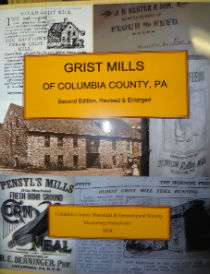 Influenza 1918: Two Months of Daily Death
How the Spanish Influenza pandemic of 1918 impacted Columbia County, PA, and vicinity.
By Mark Fritz, Editor/Contributor
It's still considered the worst natural disaster in history, the devastating Spanish Influenza pandemic of 1918. Here is a nearly day by day account of its impact on Columbia County, pulled from the pages of the local newspapers. In six parts: (1) The events briefly summarized; (2) Flu at the Bloomsburg Normal School; (3) First-person accounts; (4) Quack cures; (5) How Luzerne County coped; (6) Detailed chronology.
8.5" x 11" softbound, 140 pages, over 166 illustrations, names index.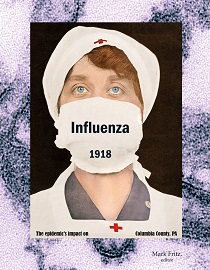 Keller's Jungle Killers
Over Eight Years in the Making
The complete story of Bloomsburg's most famous native
Enjoy for the first time the full story of George Keller (1897-1960) and his transition from college art professor to nationally-known wild animal trainer. The book contains new information on his life and career as a teacher, is far more detailed than his 1961 autobiography, and clears up many old myths, some of which came from Keller himself. It is a trip back in time, a journey to a different Bloomsburg and a different era, when a small-town boy could dream of a life in the circus and make it a reality.
224 pages, 8 ½" x 11", hardcover, color, 233 images, index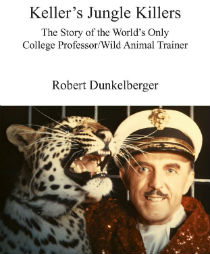 Letters Home WWI
By Mark Fritz, Editor
Subtitled: Letters From Local Participants In The Great War, the book is a compilation of letters that soldiers, sailors, flyers, and nurses wrote home to their families and which were then subsequently printed in one of several Columbia County newspapers. The letters give first-person accounts of the various phases and aspects of military service during the war, from training, to "crossing the pond," to trench life, as well as battle stories full of danger and horror from the men reporting on their experiences "in the fray." You'll also read about how "the boys" reacted to the welcome news about the armistice, and about their post-war occupation service along the Rhine River in Germany. Included are letters from men (and a few women) from all the branches of service and representing various military specialties. Author Mark Fritz has supplied many sidebars and explanatory text to help put the soldiers' letters into the larger context of the war overall. The book is 230 pages with hundreds of photos, posters, paintings, maps, and many other types of illustrations.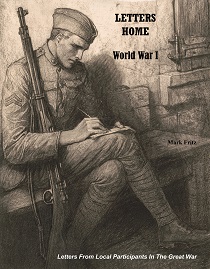 Molly Justice
By Steve Varonka with illustrations by Leslie Young
Historical fiction that looks at life during the Molly Maguire turmoil. Set in 1875 Mahanoy City, Schuylkill County, Steve takes us through a thrilling conflict between Irish, Welsh, English and German Americans in a frontier atmosphere that was the anthracite coal fields of Pennsylvania.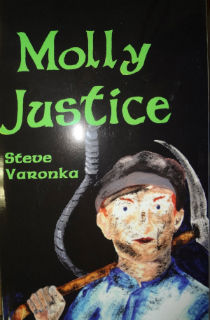 More Tracking Yesterday
By Ted Fenstermacher
Second volume of newspaper article compilations.
5.75" x 8.5" hard cover, 278 pages, several photos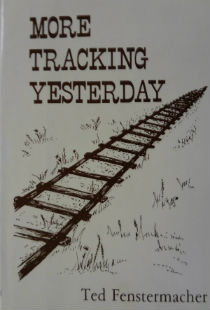 Pennsylvania Patriot
By W. M. Baillie
Biography of Danville's General William Montgomery, Revolutionary War hero and pioneer developer of the Pennsylvania frontier.
9.25"x 5.75" softbound, 246 pages, 43 illustrations, 3 maps